---
Gauge 1 Model Railway Association
Surrey Group
---

Gauge 1 is where model engineering and railway modelling meet. Our models are large enough to accomodate live steam mechanisms fired by alchohol, gas or coal. Electric motors and clockwork are also used to provide motive power; there are even live internal combustion engine powered locomotives and steam turbines.
For modellers, Gauge 1 has a physical prescence that allows truly realistic scenes. For model engineers, Gauge 1 allows prototypical Stephenson system coal fired models that you can still lift when no longer in your prime. The track gauge — 1 3/4 inches (45mm) — was one of those defined by Märklin in the 1890's.
The Gauge 1 Model Railway Association (G1MRA) was formed in 1947 and now has some 2,500 members in 30 countries. Since the mid-1970's, renewed commercial interest has increased participation at all levels, and in the last twenty years several model engineering clubs have added elevated Gauge 1 tracks. Gauge 1 live steam engines have small stored energy and momentum, so they can safely run free unlike larger gauge engines which have to have a driver riding with them. A scale live steam mainline engine running at speed with a full rake of coaches through reverse curves in the open air presents an unmatched spectacle. Coal fired engines even smell right.

G1MRA is organised around local groups. The Surrey Group was formed in 1998; we are fortunate to have some of the most experienced and knowledgeable members of the Association amongst our ranks, and we have access to eight garden tracks as well as the extensive facilities at Sutton Model Engineering Club and the Guildford Model Engineering Society. Gauge 1 is a very sociable hobby; our meetings are an excellent way to get advice and help.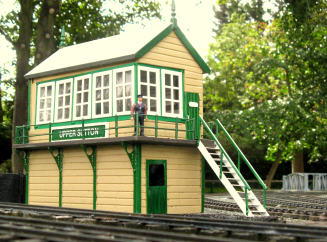 We meet on the second Tuesday throughout the year. If you live in the Surrey area and own or are thinking of acquiring Gauge 1 models then please do get in touch with Adrian Johnstone. Click here for a gallery of group members, here for copies of our newsletters and here for Adrian's steam pages.