---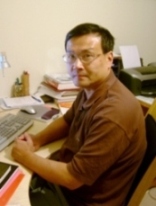 Zhaohui Luo
Professor of Computer Science
Department of Computer Science,
Royal Holloway, University of London,
Egham, Surrey TW20 0EX, U.K.

Email: zhaohui at cs.rhul.ac.uk


---

For further information:
Research interests:

Logic -- type theory, proof theory, computer-assisted formal reasoning.
Language -- advanced programming, mathematical vernacular, linguistic semantics.
Software engineering -- specification languages, system verification, formal methods.

Research group: Type Theory and Applications
Research grants and Systems (Lego and Plastic)

HoTT-based Computer-Assisted Reasoning (Royal Academy of Engineering)

Applications for PhD are welcome!
Useful pointers