---
Mainline Steam
---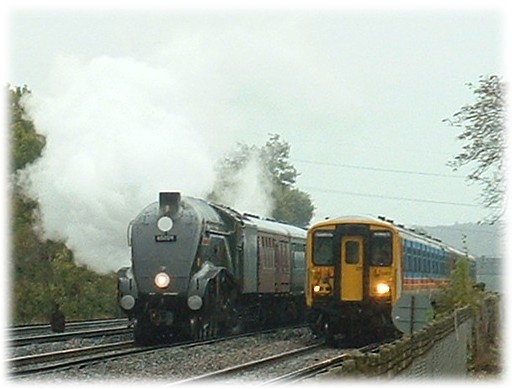 A few years ago I occasionally heard what I thought had to be a steam whistle, and with some help from Google came across UK steam info which lists steam loco movements on the British mainline rail network. There's a surprising number of these excursions: sometimes several steam locomotives a week pass near my work and home.
One of the best places to see them is at West Byfleet station, which is about three miles north-east of Woking on the old L&SWR mainline north of Woking. The track is pretty much straight for five miles there, and the engines can really be opened up. Another good viewpoint is the public footpath about a mile south-west of Egham on the Waterloo-Reading line.
My favourite visitor is Battle of Britain class 34067 Tangmere which is at home here on the Southern Railway. Other engines that come by include BR 8P 71000 Duke of Gloucester, LMS class 5MT (Black Five) 45231 The Sherwood Forester and LNER Gresley A4 4488 Union of South Africa (seen above, creeping along in pouring rain slowly overhauling a local EMU, and racing past in the fog in this this video).
If you're looking for a particular engine, there is a useful database of preserved railway locomotives and carriages here which lists locations and restoration status.
---
Pages written by Adrian Johnstone, last updated 30 September 2011.